We've packed a lot into this update...
PlanCAD 5.8.5.06 Features
Color Optimization* - Experience more natural color with an all new PlanScan Color Balancer tool and enhanced color mapping. Click the tip color icon on scan page after it connects and follow the wizard instructions. Scanning over an area will "re-weight" the color based on how long you scan the area. *If your scanner is color actived.
Scanning Intensity - Live view / Model Intensity adjust with Hotkey "L" for both color and B&W especially for scanning models. Per session use only. The intensity drop can enhance margin edges quite well.
Easier Full Arch Scanning - Now scans at faster speed.
Bite Alignment - Hit the Hotkey "A" for buccal bite alignment correction after doing initial alignment if there is an overbite.
Active Filtering - Active filtering removes lips / tongues etc. out of picture while scanning. Just hover over area while scanning to remove those from the data. Reduces need for trimming after and saves a lot of time.
Scanning Improvement - Improved scanning process that "paints up" while scanning and fills in interproximal holes more easily. 
Icon Change - Improved ICE icon to switch between model and color views.
Here's what people are saying so far
(PlanCad) 5.8.5 features many upgraded and clinically useful features. The new color scanning color calibration allows for realistic color models that truly aid in margin marking making the color tips a powerful and worthwhile upgrade.
Dr. Walter Renne
... bite refinement helps get the bite just right. Full arch scanning has gotten quicker as well as the scan speed has increased and it is now easier to fill in embrasures. Overall a great update, impressive to see how much is being added to the system.
Dr. Michael Keliher
The refinements introduced in the 5.8.5 PlanCAD Easy software will make our workflow even more efficient than before. I have been particularly impressed with the speed and accuracy with which full arch scans are captured visualized in calibrated color!
Dr. Alex Touchstone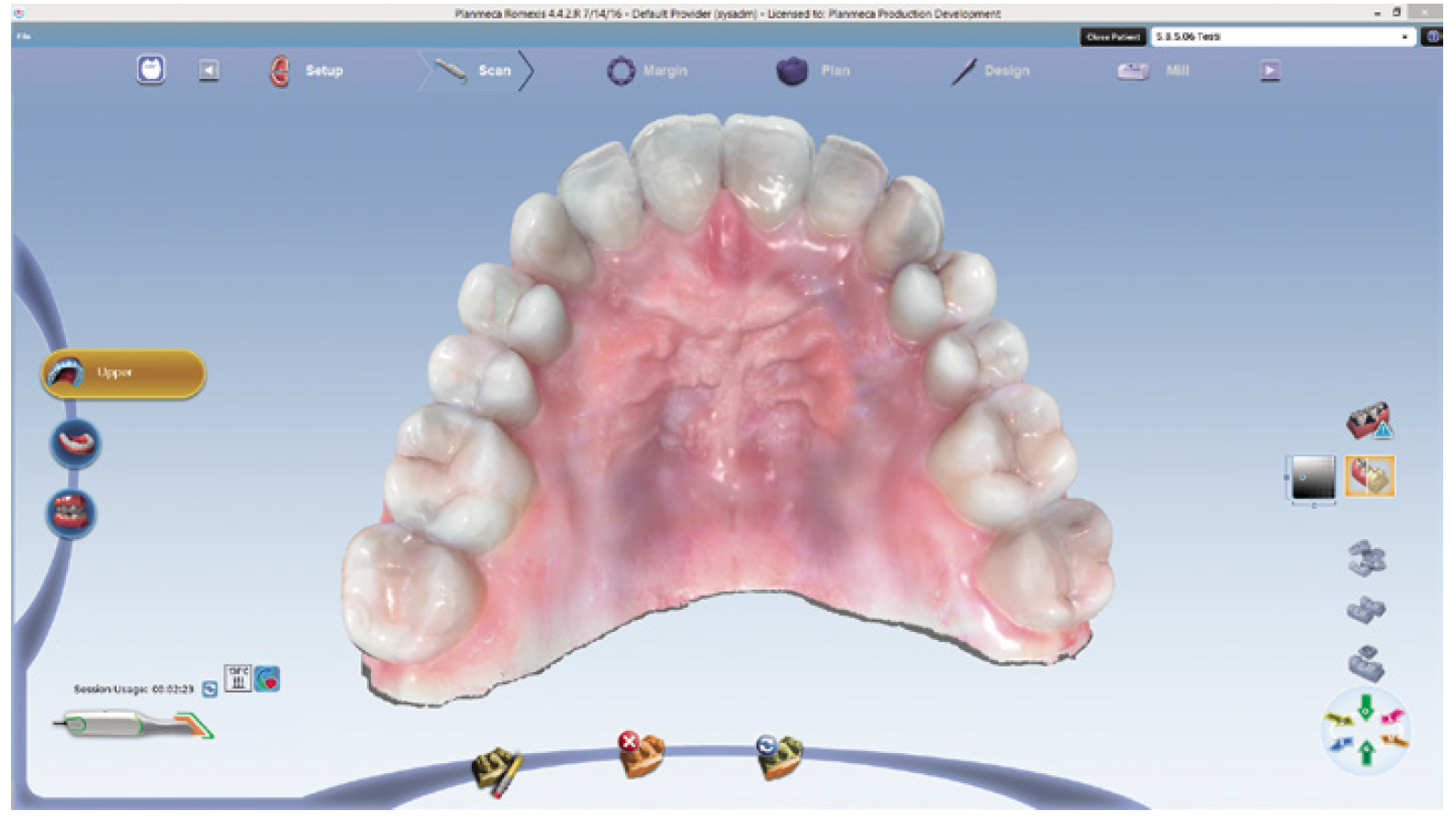 Improved color in this new version of PlanCAD® is due to the PlanScan Color Balancer and built-in color calibration. Color models now have a more realistic look. If your scanner is color activated, be sure to order one on the download page!
It's easy to optimize:
Click on the color optimization button next to autoclave icon in the Scan page.
Fully insert the scanner's color tip into a color optimization fixture and click next.
Wait for the color optimization procedure to be completed.
When optimization is ready, remove the fixture from the tip and press ok – you can then start using the scanner normally.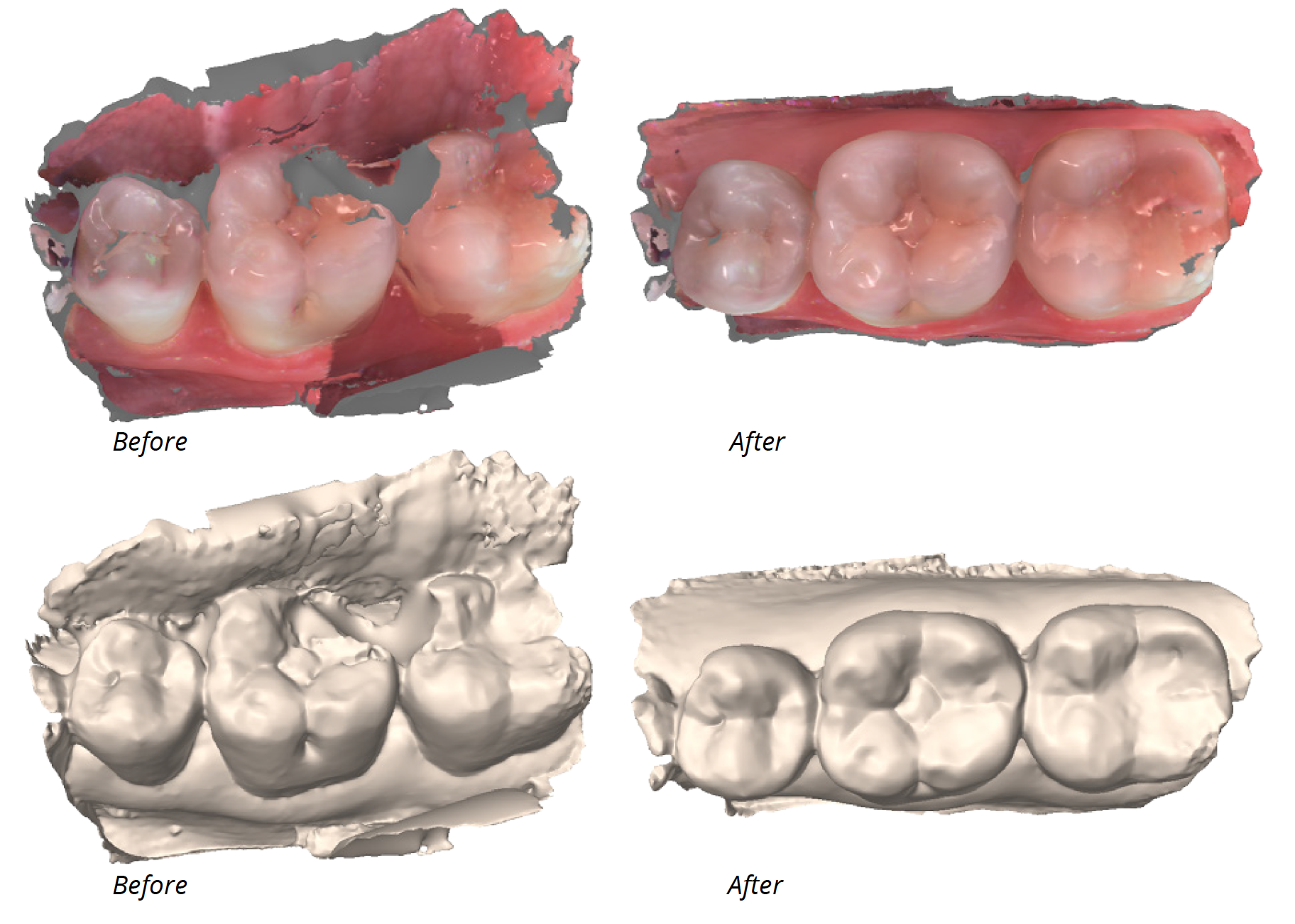 The new active filling feature will remove soft tissues (e.g. lips or tongue) from an image while scanning. The extra data can be removed by hovering over the scanned area.
It's simple! Hover and watch the active filtering do the work.
This useful new feature will reduce the need for post-scan trimming and save time. Hovering over an area will also help fill holes and catch interproximal data.
This update does not require SOS to install, but if you need us we are here!
You must be on PlanCAD 5.8.0 or greater, contact support for help if you're not sure or click here! Please download and follow the install instructions provided. A PlanScan Color Balancer is needed for color optimization. You can order yours on the download page.